COMPREHENSIVE PROGRAM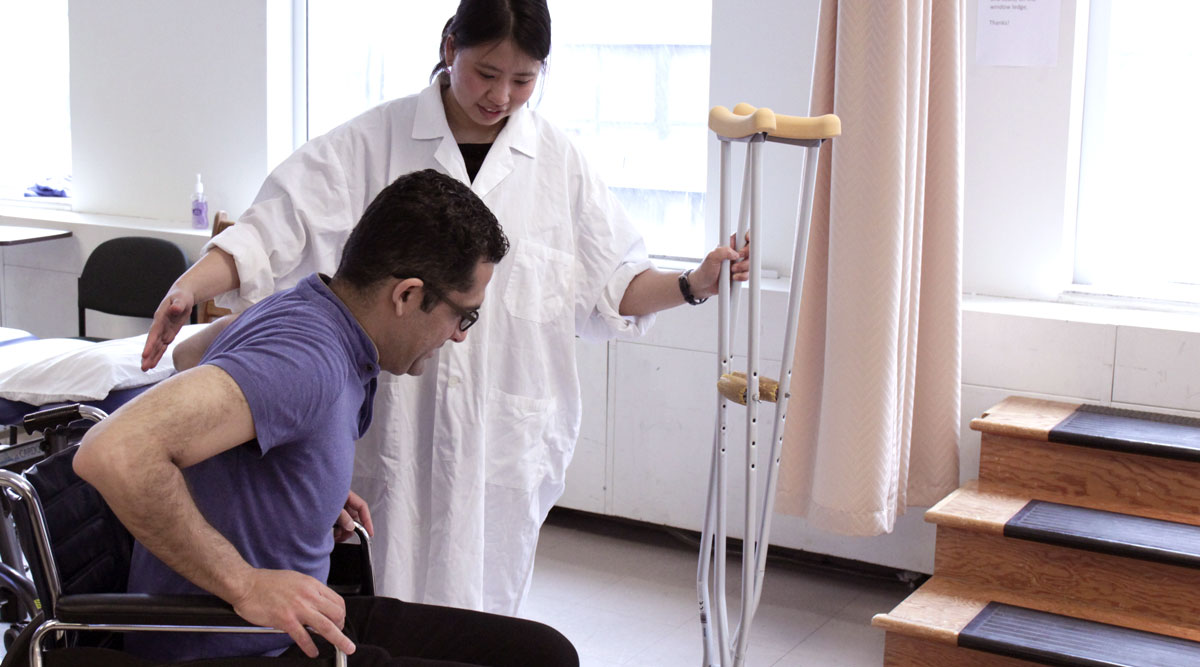 Watch: Ontario Internationally Educated Physical Therapy Bridging Program
Important Dates (may be subject to change)
| | | |
| --- | --- | --- |
| Program Duration | September 18, 2023 - May 10, 2024 (Online classes & Onsite labs) | |
| Academic Residency Week | September 18 - September 22, 2023 (1 week onsite) | |
| Application Deadline | May 10, 2023 | |
| Admissions Assessment Day | Tuesday, June 13, 2023 | |
| Admission Assessment Location | Virtual Online Assessment | |
| Information Session - Virtual on Zoom | TBD | |
INTRODUCTION
The Ontario Internationally Educated Physical Therapy Bridging (OIEPB) Program is delivered as a hybrid format and designed to provide educational and clinical opportunities that help physiotherapists educated outside of Canada including Canadians educated abroad to succeed with the national exams and in the Canadian workplace.
Our OIEPB licensure exam rates show how well our Alumni have performed.
Performance on licensure exams by bridge learners (>85%) is almost equal to Canadian-trained physiotherapists (>90%) compared to a pass rate of 48% for IEPTs with no bridge training. Once our bridge learners are licensed to practice, 100% are employed and integrate seamlessly into hospitals, private practices and community settings.
The Comprehensive Bridging Program offers a combination of online classes and onsite clinical skills labs at the university, which provides opportunities to:
   Refresh your knowledge and critical thinking skills to meet Canadian entry-to-practice standards
   Develop exam taking skills and practice multiple choice questions throughout the program
   Build your professional network of peers and mentors
   Complete 2 non-paid clinical Internships
   Experience the Canadian workplace environment and practice of professional behaviours
   Learn all about the Canadian healthcare system
   Support with career planning, resume and interview preparation
The OIEPB Program is supported by the Department of Physical Therapy, Temerty Faculty of Medicine, University of Toronto.
MISSION STATEMENT
Our Mission is to create an adult learning environment, building upon a learner's education and clinical experience to promote, improve, and maintain the mobility and function of Canadians.
The goal of the Ontario Internationally Educated Physical Therapy Bridging (OIEPB) Program is to enhance the internationally educated physiotherapist's (IEPTs) professional and clinical competencies to qualify for practice as an autonomous practitioner within the Canadian healthcare system.
IS THIS PROGRAM RIGHT FOR YOU?
This is the right program for you if you are an internationally educated physiotherapist (IEPT) and want to improve your:
Physical therapy knowledge and skills when preparing for the Physiotherapy Competency Exam (PCE)
Exam-taking skills for the Canadian Alliance of Physiotherapy Regulator's PCE written exam and provincial-based clinical exams
Understanding of the physiotherapist's role and scope of practice in Canada
Performance as autonomous health care practitioners
Knowledge and skills of how to manage cultural, professional and ethical challenges in the workplace
Ability to interact with patients and other health care providers in English
Professional networks to begin a career within the Canadian workplace
PROGRAM DESCRIPTION
The Comprehensive Bridging Program is competitive and runs once a year from September to May. Applications are accepted during the calendar year. The curriculum is delivered as a mix of online opportunities and onsite clinical practice. This delivery format provides flexibility and greater access to the program for learners living outside the Greater Toronto Area. To learn more about the content of the program, click the link below.
LEARN MORE
REQUIREMENTS
The Comprehensive Bridging Program is for internationally educated physical therapists who may meet the Canadian immigration status such as Permanent Residency, Canadian Citizenship or Convention Refugee status. Your credentials must already be approved by CAPR or in the credentialing process at time of application and you must meet the OIEPB English language proficiency requirement.
LEARN MORE
INFORMATION SESSIONS
The virtual Information session gives IEPTs an opportunity to learn more about the comprehensive bridging program, which includes 2 clinical internship opportunities. You'll hear from the Program Director, alumni and representative(s) from micro-loaning agencies. Sign up to see if the Bridging Program meets your needs and have your questions answered!
Date: TBD
Time: TBD
Location: Online
SIGN UP
SIGN UP FOR THE OIEPB NEWSLETTER
The OIEPB Newsletter is published throughout the year. Keep up-to-date with program news, activities and events.
Subscribe to our listserv. You can unsubscribe at anytime by clicking "unsubscribe" in the email edition of the OIEPB Newsletter. Your email will not be shared.
Subscribe
HOW TO APPLY
Start the application process with our streamlined online form.
APPLY NOW