OIEPB is here for YOU
The Ontario Internationally Educated Physical Therapy Bridging (OIEPB) Program offers a comprehensive 10 month program, online courses and workshops for internationally educated physiotherapists (IEPTs) like yourself to help transition your career to Canada.
The Comprehensive Bridging Program will help you on your journey to licensing and practice as a physiotherapist in Canada. To gain licensure, you must pass 2 national Physiotherapy Competency Exams (PCE) conducted by the Canadian Alliance of Physiotherapy Regulators.
The OIEPB Exam Success Rates show how well our Alumni have performed.
The 2018 PCE Clinical Component exam pass rate for our bridge learners is 86.8% compared to a pass rate of 55% for IEPTs with no bridge training and 84% pass rate for Canadian-trained physiotherapists.
With a 100% employment rate, learners are integrated within the Canadian health care system in major urban centres and/or rural areas in their chosen area of practice. The impact of the bridging program extends widely across the country and the Ontario labour force.
Messages from our Alumni:
"Internationally trained Physiotherapist coming to Canada should certainly consider this program as priority to get assistance with licensing exams, work experience and networking with clinicians. The program was really awesome, advantageous, and fabulous…I  would definitely recommend it to others."  (Mujahid T., Class of 2016)
"The March results are out and I can finally say that I have PASSED the written component and I couldn't do this alone. Thank you so much for helping me believing on myself again and making me remember the professional I am. Muchas gracias de todo mi corazón – thank you from the bottom of my heart." (Manuel S., Class of 2019)
"Thank you! I was trembling as I key-in my CAPR pin for the May PCE, followed by screaming and crying. My kids ran up to me to find out what happened to mommy. I passed and I have a grateful heart to each one of you." (Frances S., Class of 2019)
"I am happy to say that I passed the clinical component and that my dream has come true. I can't explain how happy I am right now and I owe my success to you all. Thank you!" (Saviona I., Class of 2018)
"I am so happy to share with you that I passed the clinical exam last June 2018! It would have not been possible without your tremendous support and hardwork for all us students to succeed. This is a start of a new journey for me and I thank you all with all my heart for helping me make this new chapter in my life happen."  (Ruth S., Class of 2017)
"I just accepted a job offer last week…The bridging program has helped equip me with the skills and knowledge so that I will be able to work and collaborate with other healthcare professionals to create the highest quality and safest patient care possible. I would not have done it without all your help and support, and for that, I am profoundly grateful."  (Minette T., Class of 2017)
"…I am joining a team of physiotherapists at a downtown hospital. I always wanted to work in an environment that will help me grow professionally."  (Madhi H., Class of 2015)
Get the advantages you need to succeed by taking this program.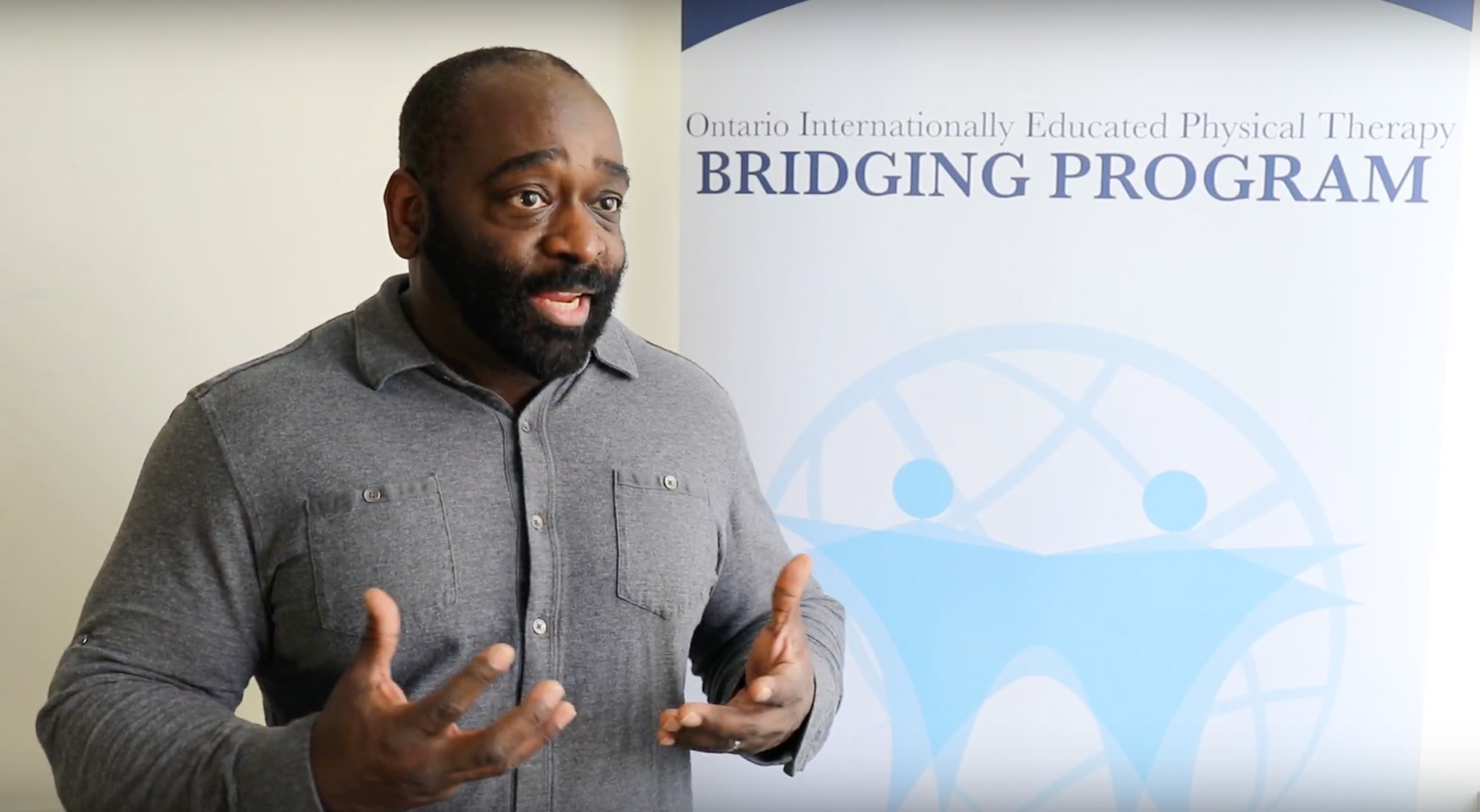 Watch: Journey to Licensing and Employment
The Ontario Internationally Educated Physical Therapy Bridging Program is funded by the Ministry of Training, Colleges and Universities: