Celebrating the Class of 2022 Graduation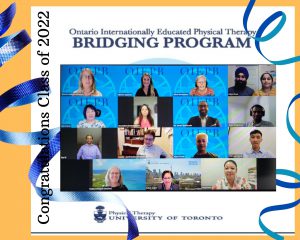 A virtual graduation and awards ceremony was held in May 2022 to celebrate the graduating Class of 2022.  Congratulatory speeches were given by Dr. Sharon Switzer-McIntyre, OIEPB Director, Dr. Lynn Wilson, Vice Dean, Temerty Faculty of Medicine (in absentia), Dr. Susan Jaglal, Chair, Department of Physical Therapy, Temerty Faculty of Medicine and M. Ismail Abdelkader, Co-President, OIEPB Alumni Association. They wished the class well and all the best as they start the next phase of their journey within the healthcare system and their communities.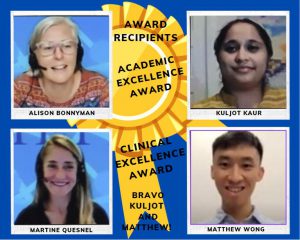 During the evening, two graduates were recognized for their excellent performance throughout the program. The Academic Excellence Award was presented to Kuljot Kaur by Alison Bonnyman, OIEPB Academic Coordinator. Congratulations to Kuljot for earning top marks in the class! Next, the Clinical Excellence Award was presented to Matthew Wong by Martine Quesnel, Academic Coordinator of Clinical Education and Mentorship. Congratulations to Matthew for demonstrating exceptional performance on both clinical internships!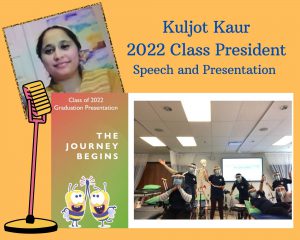 Kuljot Kaur, Class President, gave a heartfelt speech on behalf of her classmates. During her speech, she noted that being in the bridging program was a life changing experience, not only helping to fill in knowledge gaps but also transforming their mindsets with continuous development of critical thinking skills. The 'training of minds' was only one of the many unexpected positive outcomes from the program. The mentorship program was very important and mentors were very helpful throughout the program. The two clinical internships provided the best experiences with welcoming clinical sites and supportive clinical instructors. In closing, Kuljot shared a presentation chronicling their journey throughout the program.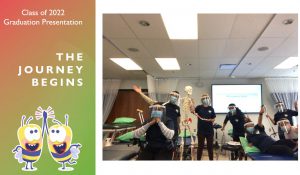 We wish all our graduates continued success!
Congratulations Class of 2022!