Congratulations to the Class of 2021!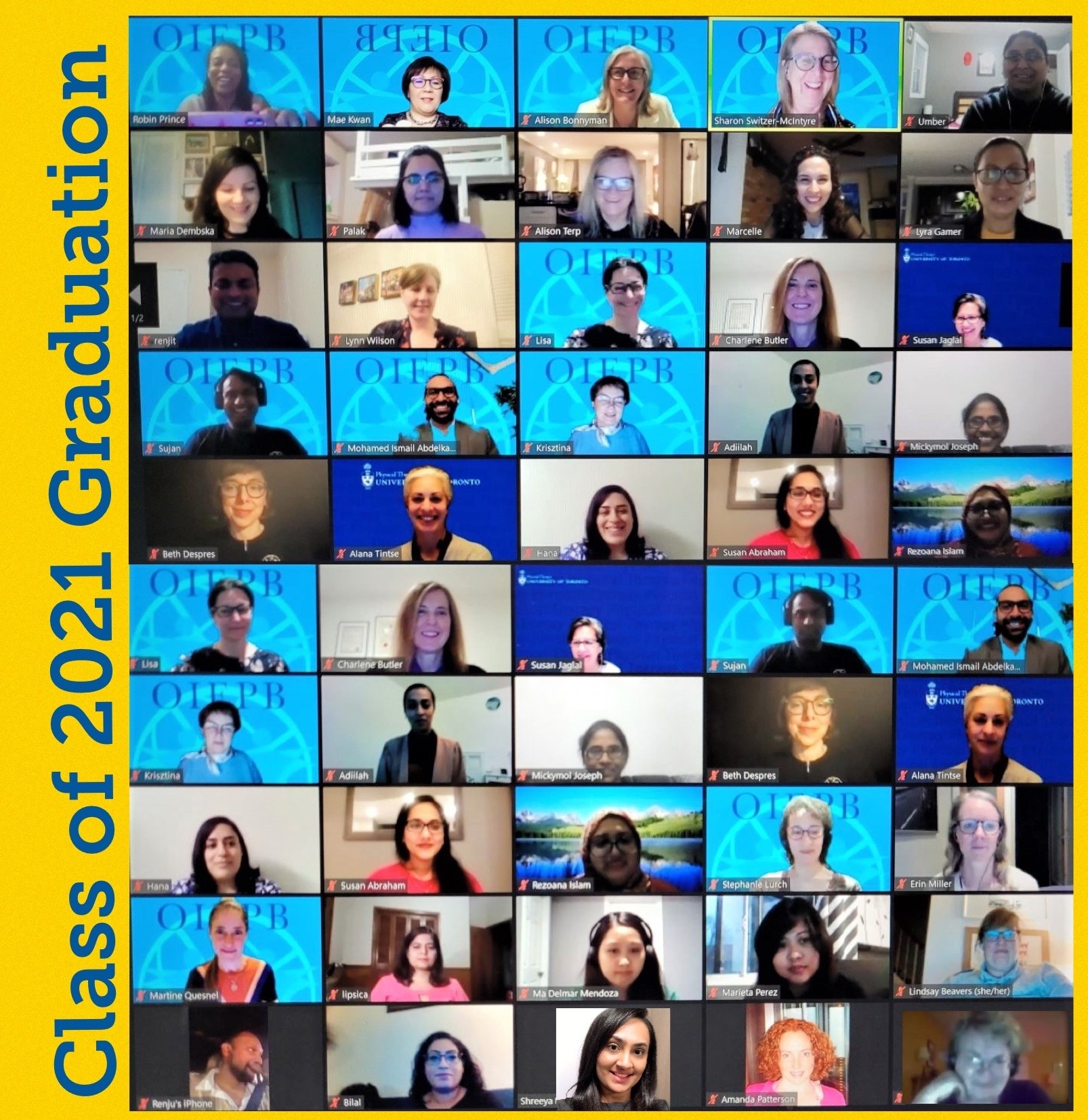 A virtual graduation was held on March 23, 2021 to celebrate the Class of 2021's completion of the OIEPB Program.
"Due to this pandemic, we will be one of a kind to be remembered. We will be in history. Most of us or all had in mind a different graduation celebration where we receive our certificates, take pictures, laugh and hug each other. Unfortunately, we cannot do it. This pandemic will not stop us to dream for our future. We must spread our wings and soar high!" (Marcelle F., Graduating Class of 2021)
Many attended this special occasion in honour of these graduates who completed the bridging program during a global pandemic. The Class of 2021 showed resiliency and strength as they excelled with their online modules, adopted PPE protocols so they could refresh their practical skills during in-person clinical labs and prepared well for their clinical internships with inter-professional healthcare teams in Ontario.
Charlene B., a graduate describes her opportunity for real-life practical experience, "These placements not only helped to hone clinical skills but also provide the essential experience of Canadian healthcare for the internationally educated student without which our journey would be that much more difficult."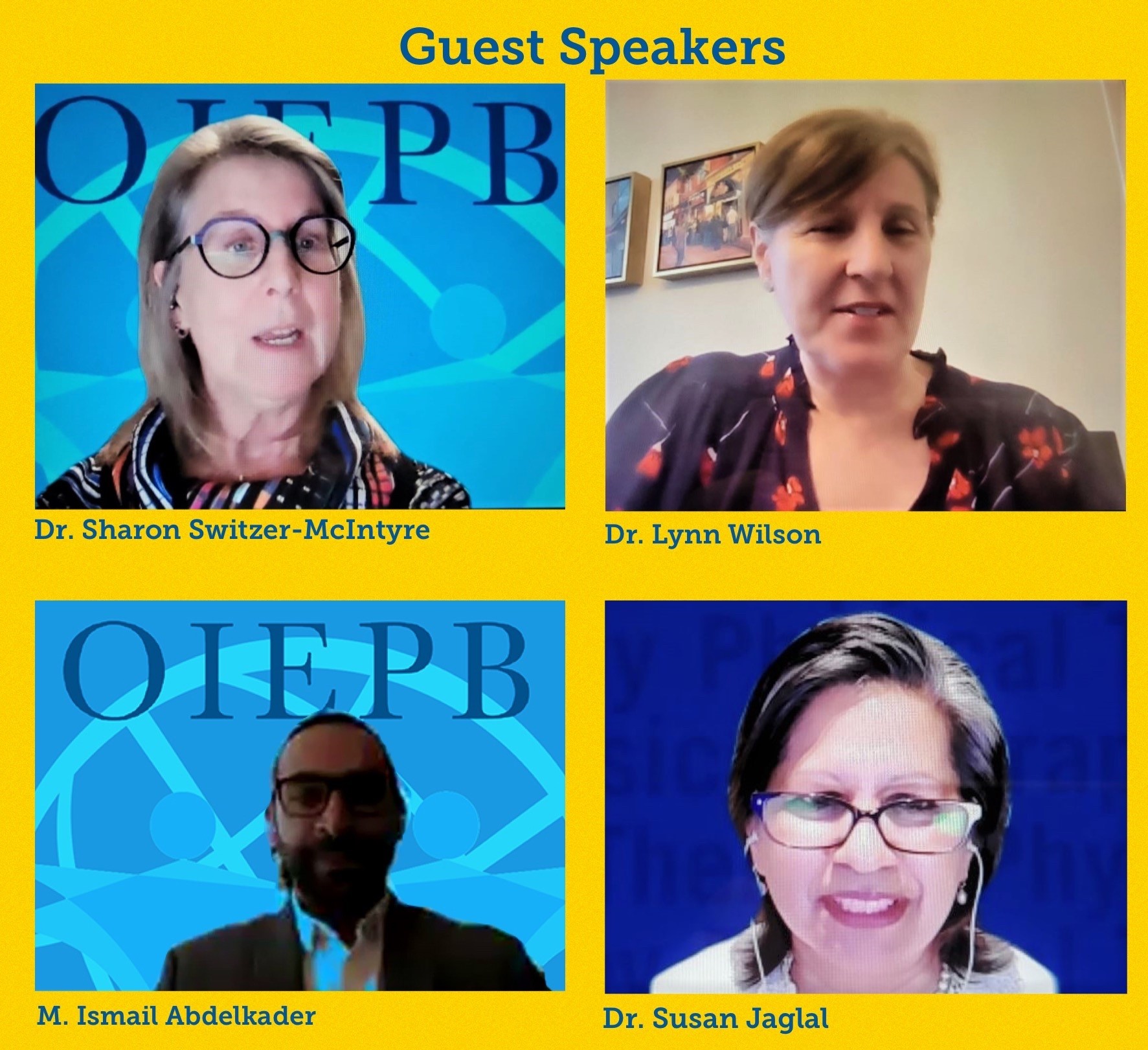 Sharon Switzer-McIntyre, OIEPB Director kicked-off the evening by introducing guest speakers, Dr. Lynn Wilson, Vice Dean, Clinical and Faculty Affairs and Associate Vice Provost, Relations with Health Care Institutions, Temerty Faculty of Medicine, M. Ismail Abdelkader, Co-President, OIEPB Alumni Association and Dr. Susan Jaglal, Chair, Department of Physical Therapy. They each addressed the graduates and congratulated them for reaching this milestone in their journey.
The evening wouldn't be complete without the graduate certificate presentation, announcement of the 2021 Academic and Clinical Excellence Award recipients and graduate speeches.
Alison Bonnyman, Academic Coordinator announced the recipient of the Academic Excellence Award. This award recognizes the learner who achieved top marks in the class. This year's award goes to Hana Salloum! Congratulations Hana!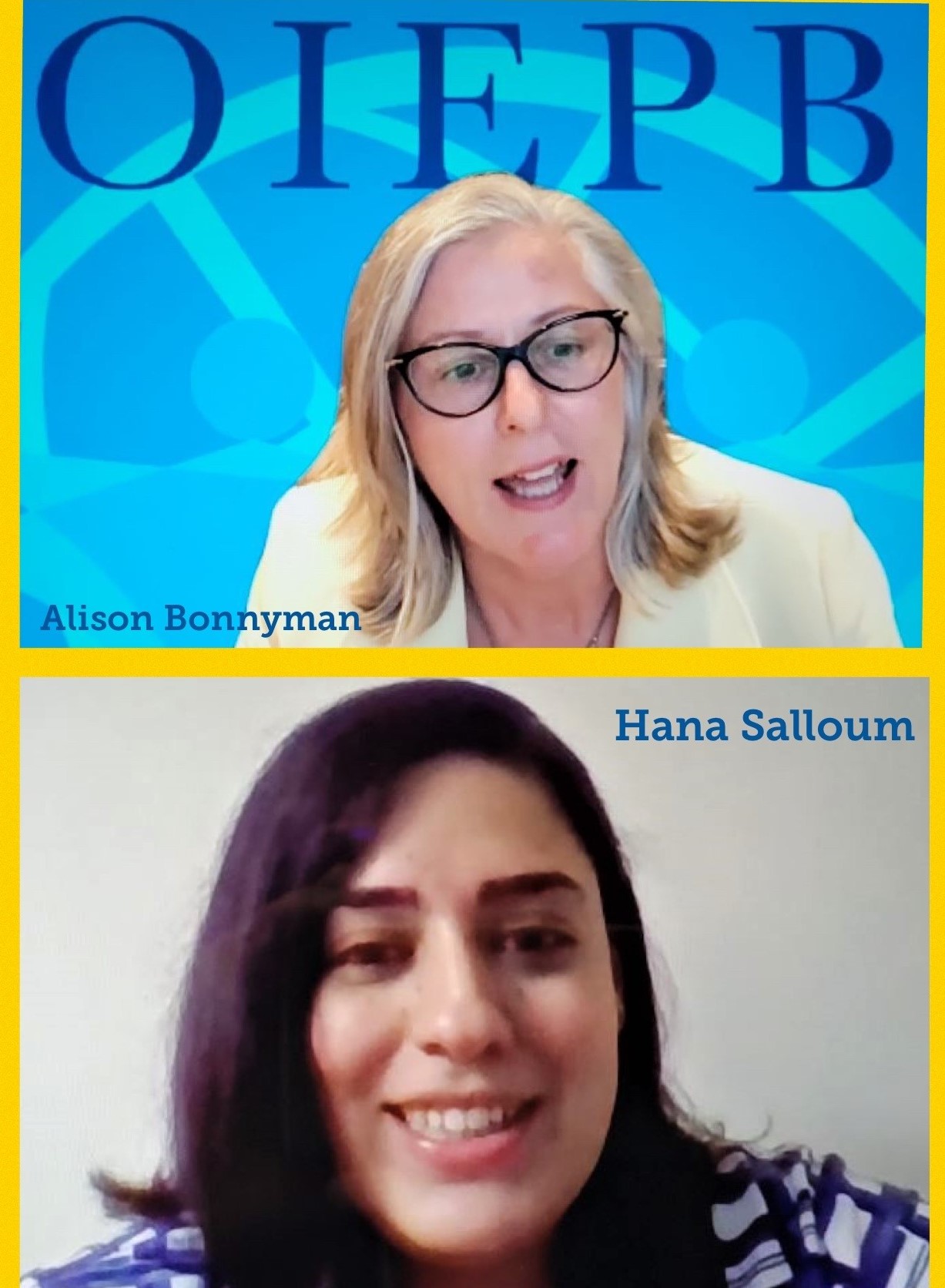 Martine Quesnel, Clinical Education Coordinator announced two recipients for the Clinical Excellence Award. Congratulations goes to Marcelle Fujimaki and Alison Terp for their outstanding and exceptional achievements in the clinical environment. Bravo Marcelle and Alison!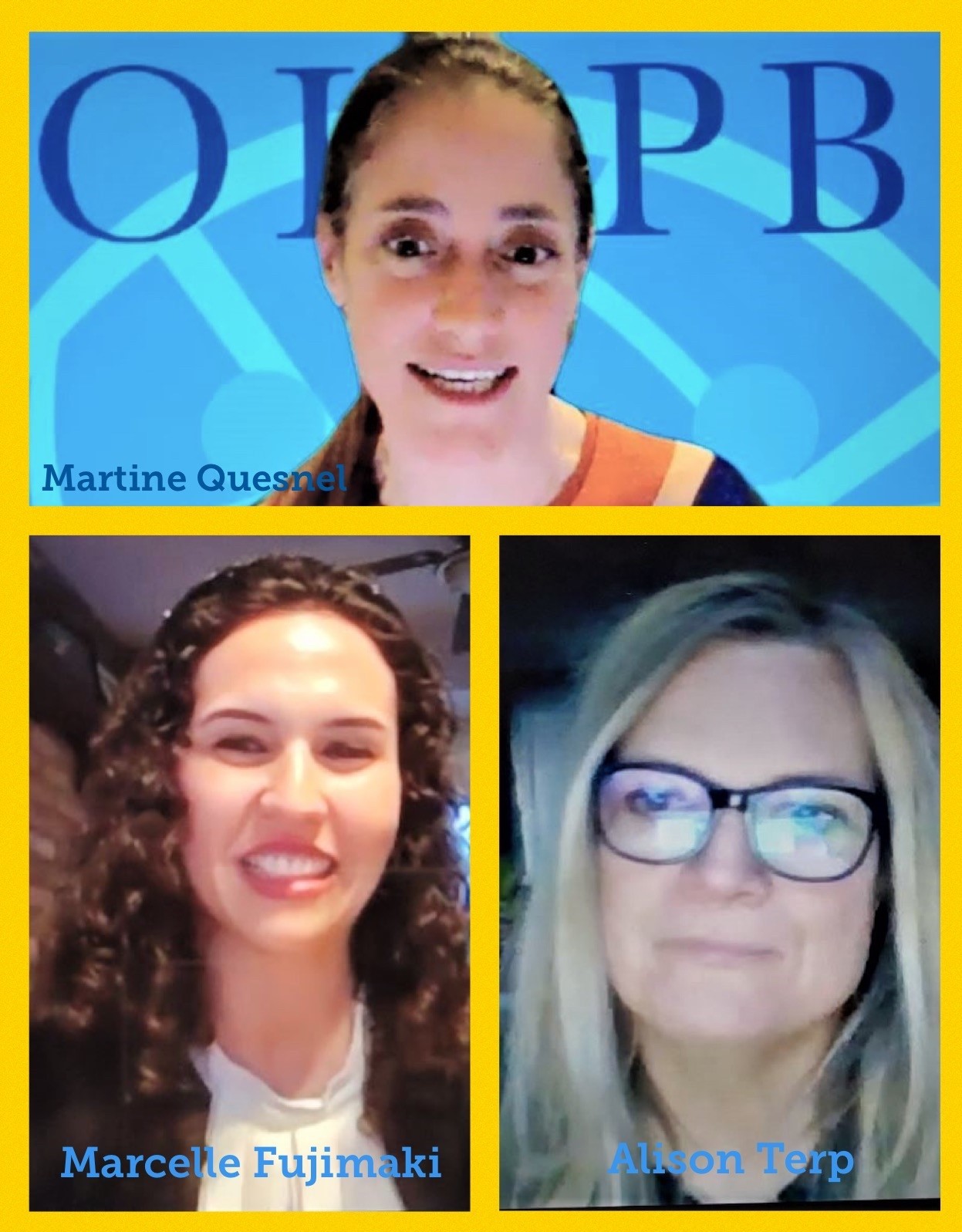 Co-Presidents Susan Chalukunnel and Charlene Butler delivered acknowledgements and gratitude on behalf of their classmates. Watch their video here.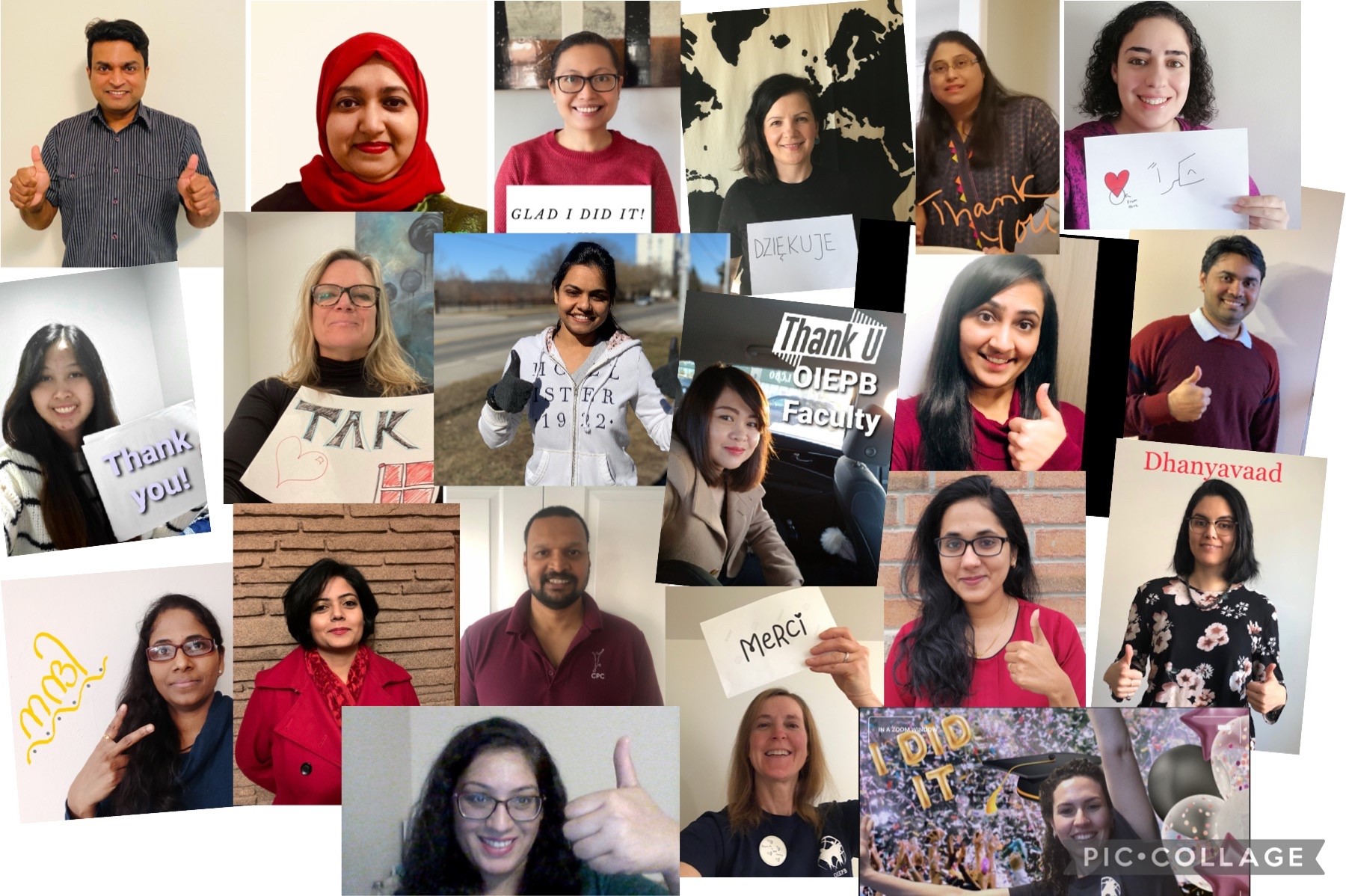 Graduates Susan, Charlene, Marcelle and Alison shared heartfelt speeches about what the program meant to them and experiences gained over the past year.
We thank you all for choosing the bridging program and sharing your thoughts and experiences with us. It was a delightful evening shared by all and we wish all our graduates much continued success!
Congratulations to the Class of 2021!
If you'd like to view the individual or compilation of graduate speeches, please click on the links below.
Susan C., OIEPB Alumna, India – Keys to success in the PT bridging program during a pandemic.
Charlene B., OIEPB Alumna – Clinical Internships are essential to restart your career in Canada.
Marcelle F., OIEPB Alumna, Brazil – The PT bridging program lights your path to success.
Alison T., OIEPB Alumna, Denmark – Best Faculty at the University of Toronto!
OIEPB Class of 2021 Graduation Speeches (compilation) – Expressions of Gratitude