Congratulations to the Graduating Class of 2019!
It was only 10 months ago that these internationally educated physiotherapists (IEPTs) from around the world came together to join the OIEPB program in the Department of Physical Therapy at the University of Toronto. During this time, the bridging program helped them refresh their physical therapy skills both academically and clinically, navigate the licensure process and build up their professional network as they transition their careers in Canada. The culmination of all their hard work was celebrated with a Graduation and Awards Ceremony at the U of T Faculty Club.
Dr. Sharon Switzer McInytre, OIEPB Director welcomed the graduating Class of 2019, their family, friends, Faculty, Clinical Community Partners and invited speakers (Dr. Allan Kaplan, Vice Dean, Graduate and Academic Affairs, Faculty of Medicine, Dr. Susan Jaglal, Interim Chair, Dept of Physical Therapy, Dr. Cathy Evans, former OIEPB Online Director, Mohamed Abdelkader and Adiilah Heenaye Sumser, OIEPB Alumni Association Co-Presidents) to this momentous event acknowledging their accomplishments and completion of the bridging program..
Each of the honoured guest speakers were an inspiration to this new group of Alumni. They shared personal insights, words of encouragement and expressed excitement to see them blend their knowledge and skills developed internationally with Canadian physical therapy practice once they enter the workplace.
The 2019 Class Co-Presidents, Ayodele Elugbaju and Vasanth Rajan both delivered speeches on behalf of their classmates and shared their experiences with the program. The class created a video to show their gratitude to Faculty, staff and clinical partners. Watch their video here.
One of the highlights of the grad ceremony is the presentation of the Academic and Clinical Excellence Awards. Each year the top learners for Academic and Clinical Excellence are recognized. Awards were presented by Sharon Switzer McIntyre, Director, Alison Bonnyman, Academic Curriculum Coordinator and Martine Quesnel, Academic Clinical Education Coordinator.
This year the Academic Excellence Award was presented to Juliana de Castro Faria Douglas who demonstrated top marks in the program. Bravo, Juliana!
The Clinical Excellence Award was presented to Wing Kei Cheng who demonstrated exceptional performance on his clinical internships. Well done, Wing!
The graduation ceremonies concluded with a heartfelt speech by Dr. Cathy Evans. These graduates will be following in the footsteps of past graduates and will help shape the future landscape of physical therapy practice across Canada.
We are happy and proud of your successes!
Congratulations to the Class of 2019!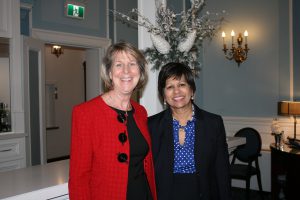 Dr, Sharon Switzer McIntyre, OIEPB Director &
Dr. Susan Jaglal, Interim Chair, Dept of Physical Therapy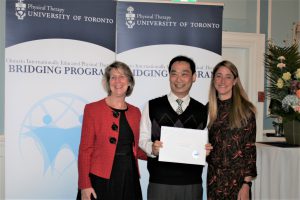 Wing Kei Cheng, Clinical Excellence Award Recipient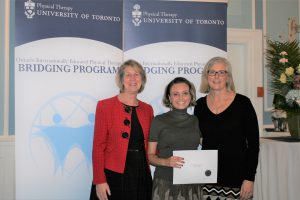 Juliana de Castro Faria Douglas, Academic Excellence Award Recipient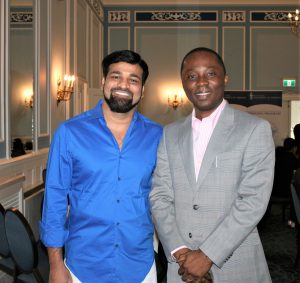 Vasanth Rajan And Ayodele Elugbaju, Co-Presidents