Happy Graduation Class of 2023
Congratulations to the graduating Class of 2023. It was only a short 8-months ago that these internationally educated physiotherapists (IEPTs) joined the OIEPB Program in the Department of Physical Therapy at the University of Toronto. Leading up to graduation, they had a busy second term completing their coursework, last internship, and final residency week.
A virtual graduation and recognition awards ceremony was held on May 31st in honour of the graduates, shared with family, friends, faculty and community clinical partners. Dr. Sharon Switzer McIntyre, OIEPB Director and emcee for the evening kicked off the event by welcoming all to this exciting event. She introduced the guest speakers,  Prof. Lynn Wilson, Vice Dean, Clinical and Faculty Affairs, Faculty of Medicine, Dr. Susan Jaglal, Chair, Department of Physical Therapy and M. Ismail Abdelkadar, Co-President of the OIEPB Alumni Association. Each of these honoured guests addressed the graduates with their motivating speeches, words of encouragement and offered congratulations for all their hard work and completing the bridging program.
Following the speeches, the certificate ceremony took place ending with the presentation of the Awards of Excellence by Martine Quesnel, Associate OIEPB Director and Director of Clinical Education and Mentorship. Ana Santos Romero earned top marks in the program and received the Academic Award of Excellence. Brava Ana! Two Clinical Education Awards of Excellence were presented this year to Navjot Sandhu and Ana Santos Romero for demonstrating exceptional performance in the clinical environment. Congratulations Nav and Ana!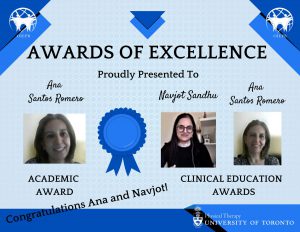 Next up, Class President Annika Jans gave a very heartfelt speech on behalf of the class sharing their journey and how the program has impacted their lives. They are more confident and looking forward to promising careers within the Canadian healthcare system. Graduates all said "Thank You" in their own native language and each shared a short presentation. Here are some quotes:
Fabiana said, "I cannot be more thankful for having participated in the Bridging Program. This program has undoubtedly had a profound impact on both my personal and professional development. When I first embarked on this journey, I could not expect to find all the support that I had through all the amazing people I was lucky to meet. From my knowledgeable clinical instructors who shared their expertise during the internships to the supportive staff from the Bridging who guided us and were there for anything we needed. Therefore, I would like to express my most profound appreciation to everybody who was a part of the Bridging Program. I will take all the learning and I will be forever grateful for the transformative impact this program has had on my life. Thank you once again for everything you have done."
Ana said, "It took me ten years to decide to apply for the Bridging Program. Now I know if has been the best decision I ever made since coming to Canada. I learned what it is like working as a physiotherapist here. I built the confidence to apply what i know from my previous experience, and most importantly, I felt like a part of the physiotherapy community with the guidance of the faculty, clinical instructors, and mentors. Thanks for your support and enthusiasm!"
Arlyn said, "Thank you to our professors, mentors, clinical supervisors, colleagues and to my family. Joining the OIEPB Program allowed me to fill my learning gaps and be able to achieve my dream and continue my passion to work as a Physiotherapist in the future. Thank yo for your guidance and support!"
Marvita said, "I can't recall how many times I would visit the OIEPB website and tell myself it was not for me and that I should just forget about it. But I knew I needed help. Now, I can say that I made the right decision joining the program. This provided me the educational and clinical opportunity to see what it's like to practice in the Canadian healthcare system. All the wonderful people I had the honour to meet in this program, had such love and passion for the profession, it was contagious! To the entire OIEPB team, facilitators, instructors/professors, clinical instructors and mentors – you are the solid dependable bridge leading us to cross that path that we wanted to take. THANK YOU!"
Navjot said, "I would like to express my gratitude to Mae, Martine, Sharon, My classmates, Sadhana and Lawrence, Mentors: Hari & Alana, Faculty, Facilitators & Clinical Instructors, My husband Kartik & my near ones! And the Universe for aligning everything!"  She also shared this quote: 
"At times, our own light goes out and is rekindled by a spark from another person.
Each one of us has a cause to think with deep gratitude of those who have lighted the flame within us."
Albert Schweitzer
We wish our graduates continued success and we're proud they'll be a part of the future landscape of physical therapy practice across Canada!
Congratulations Class of 2023!
The OIEPB Team