A big welcome to the eleventh cohort of the bridging program. These internationally educated physical therapists (IEPTs) left their home countries of India, Nepal and the United Arab Emirates with goals of continuing their career as practicing physical therapists in Ontario. They joined the program to help re-start their professional careers, build a new network, gain more confidence, complete mock exams before challenging the Physiotherapy Competency Exams (PCE) and much, much more. Most importantly, they'll have opportunities to practice and acquire valuable clinical practice experience from onsite clinical labs and from real life cases during their two clinical internship opportunities.
They're off to a great start with a Residency month, designed to introduce the class to all aspects of the comprehensive program, review expectations for success and getting to know each other. During residency, Kuljot Kaur (photo below) was voted to be their class representative. Congratulations Kuljot on accepting the leadership role as the 2022 Class President!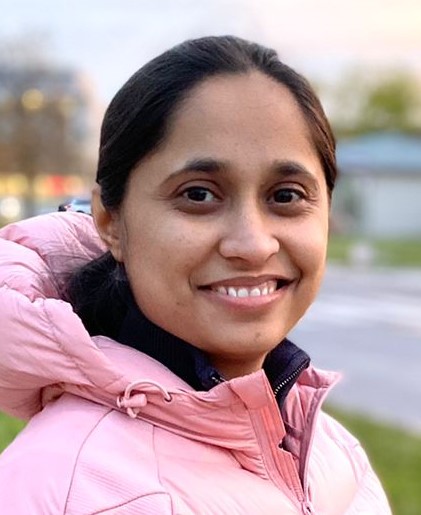 To end Residency month, the class came together at the university for two days of in-person clinical practice labs. Faculty and learners were all excited to meet in-person and connect with their peers. It was a great weekend chock full of hands-on practice-based activities.
Throughout the fall term online classes will focus first with consolidating their knowledge and skills in cardiorespiratory practice followed by neuromusculoskeletal and neurological fundamentals. As well, they'll be starting their first clinical placement with continued support by their mentors and the bridging team. We wish all a very successful fall term!
Stay updated about program activities by:
Subscribing to the OIEPB Newsletter.
Follow us on Twitter.
Watch our videos on YouTube.